This store requires javascript to be enabled for some features to work correctly.
Welcome to the world of Emily Somers
Introducing Emily Somers. A remarkable motivational speaker who's beaten cancer not once or twice, but three times! She's taken her time on the C-train and turned it into an amazing story about toughness, the right mindset, and a good dose of bravery.
The ultimate survivor story
With honesty, authenticity and a fair few swear words, Emily shares all the life lessons the big C has taught her. She openly talks about diagnosis, treatment, her lowest days and the mindset she required to make it through.  
Expect your audience to walk away feeling moved, motivated and capable of tying a darn good headscarf. 
Mindset, resilience and the art of mustering Bravery
Through her talks, Emily shares how she summoned the motivation and energy to keep going after being given the worst news - on three different occasions. 
She talks about failure, reframing obstacles and refusing to accept the status quo - especially when it comes to cancer headwear. 
Self-confidence, self-love and discovering your inner strength
Becoming the bald chick at the age of 26 was not on the vision board. It was a defining moment that required Emily to dig deep and find the strength to embrace her shiny, bald appearance with grace and resilience, regardless of societal norms.
After over a decade of dealing with hair loss, scanxiety, and the general fear of all things cancer-related, Emily's toolbox is overflowing with practical strategies, tips and tricks to help individuals rebuild self-confidence when times get tough.
.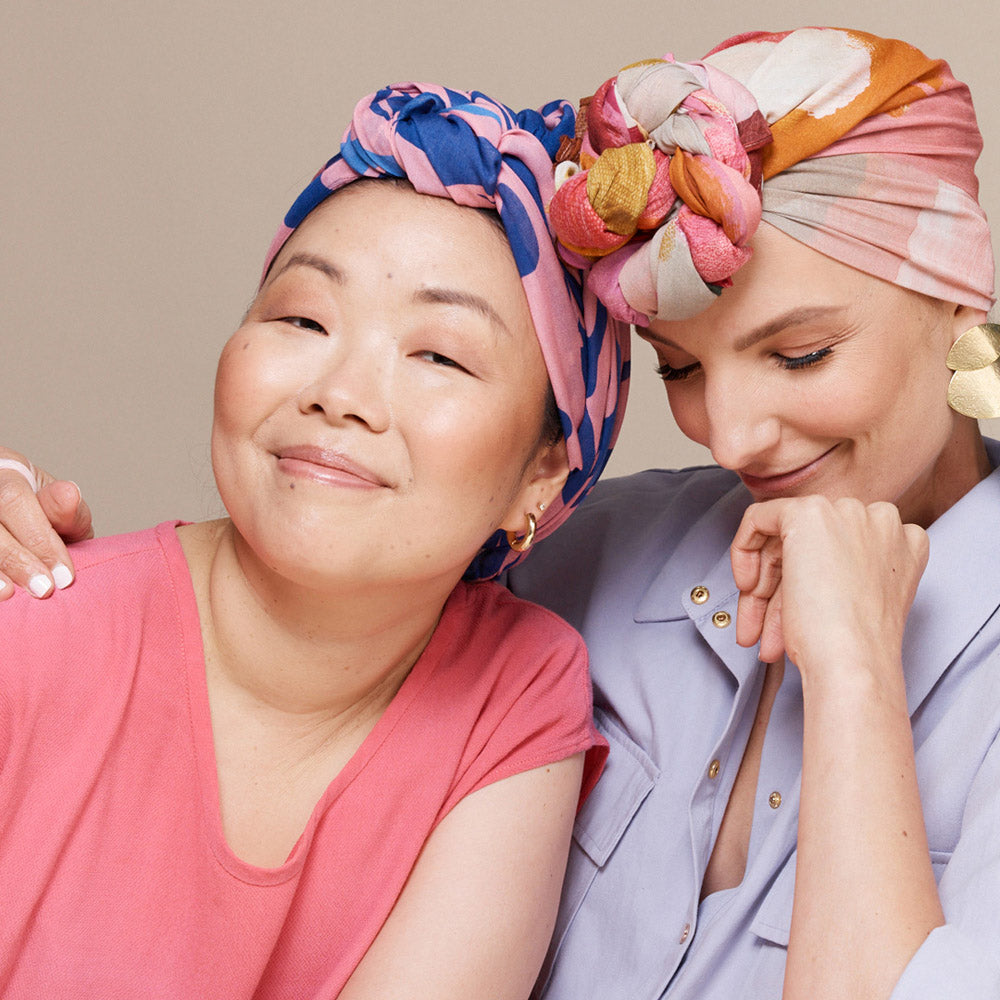 How to support a colleague or friend through a shit show
This is practical and highly valuable workshop on nailing the art of supporting someone during challenging times. Emily touches on the importance of effectively communicate -  including the top do's and don'ts on what to say. Valuable insights into each stage of a crisis and what a person may need, and how to create a workplace that has got their back. 
Hospital workshops
Emily has facilitated a number of workshops within hospitals. Everything from the annual Pamper Day at Peter MacCallum Cancer Hospital which sees 120 women in attendance, to small and intimate scarf tying workshops. 
Emily's kind, compassionate and relaxed style, coupled with her bright and colourful scarves sees cancer patients leaving the workshops uplifted and with a smile on their face.
Book Emily Somers for your next event:
If you're searching for a speaker who can inspire, uplift and ignite, look no further than Emily Somers. 
.Emily is available for speaking events both big and small, grand and intimate, in-person or through the magic of screens.
Email hello@braveryco.com.au to book Emily for your next speaking event.
-