This store requires javascript to be enabled for some features to work correctly.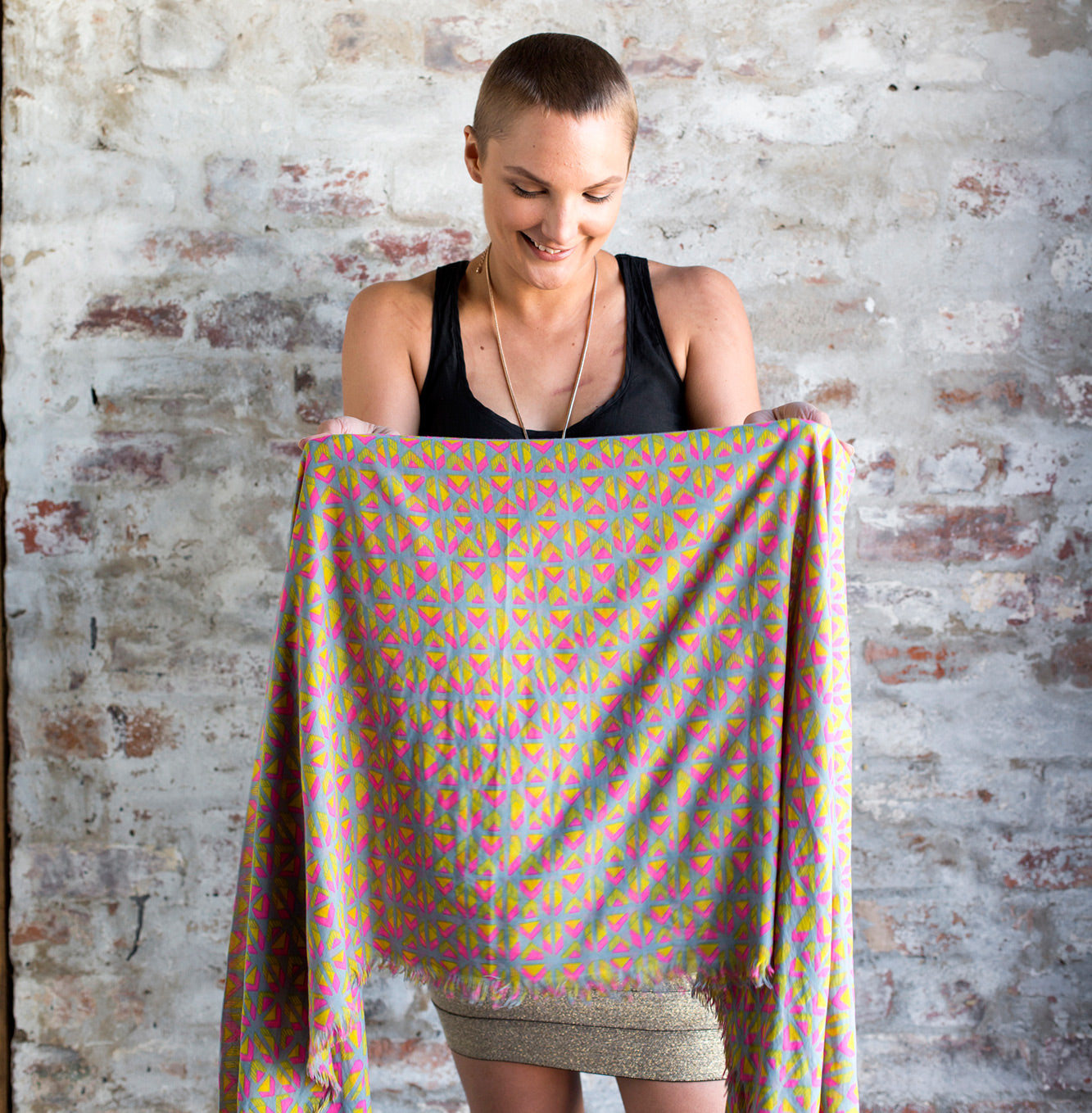 A bit about Bravery Co.
Bravery Co. was born to a girl called Emily. A dreamer and a traveller, a collector and a designer, she spent her days as an Art Director in a bubble of colour and happiness. Then she got sick. Real sick. She got cancer. Not once, not twice but three times. And do you know what, she beat it. Not once, not twice but three times.
Inspired by her own experience of chemo, cancer, naps, and turbans, she's on a mission to create some cool cancer headwear in the hope to give bravery to others going through something she knows only too well.
Emily and Bravery Co. is located in Melbourne, Australia. 
To hear more about Emily's cancer story, subscribe to the blog. Or get in touch to have her run a turban workshop or ​speak at your next event.
I'm proud to say that we've made loads of decisions that have been driven by the desire to create a more sustainable, ethical and environmentally responsible business. It's been such an incredible learning curve and we're continually changing and shifting to be better. In no way am I claiming to be perfect so if you have any suggestions on things we can do better, I'm all ears. 
Our designer scarves are produced in the silk capital of Hangzhou in China - an area famous for the best quality silk fabric. I've been working with small company headed by two female founders - Miya and Lillian, for 2 years now. The silk manufacturing factory is small and employs approximately 35 people. As we only hire experienced silk printers, each employee is paid a higher than average wage. I've also had a third party inspect the working conditions and make sure they are all up to scratch but hope to visit China in the near future to properly meet the team.



We've chosen to use digital printing to produce our Designer scarf range as it allows us the flexibility to have smaller runs of production and therefore no waste. Digital printing also reduces water waste because the fabric doesn't need as many wash/rinse cycles, and there are no screens or colorant baths that require cleaning. 



Each batch of scarves takes 5-6 weeks to be completed. We don't rush production as we want to create high quality scarves that have been made with love. 



Selecting the right material to print our Designer Range took a lot of researching but we landed on Silk Modal as it's both soft of the head and made from natural fibres which is completely biodegradable at the end of its life.
Our Twist hats are made in Melbourne by the incredible Roula of Cannon Fashion. She is a one-woman show with years of experience. We make small batches to avoid any waste. The twist hats were designed by me and the pattern has been patented so it is unique to Bravery Co.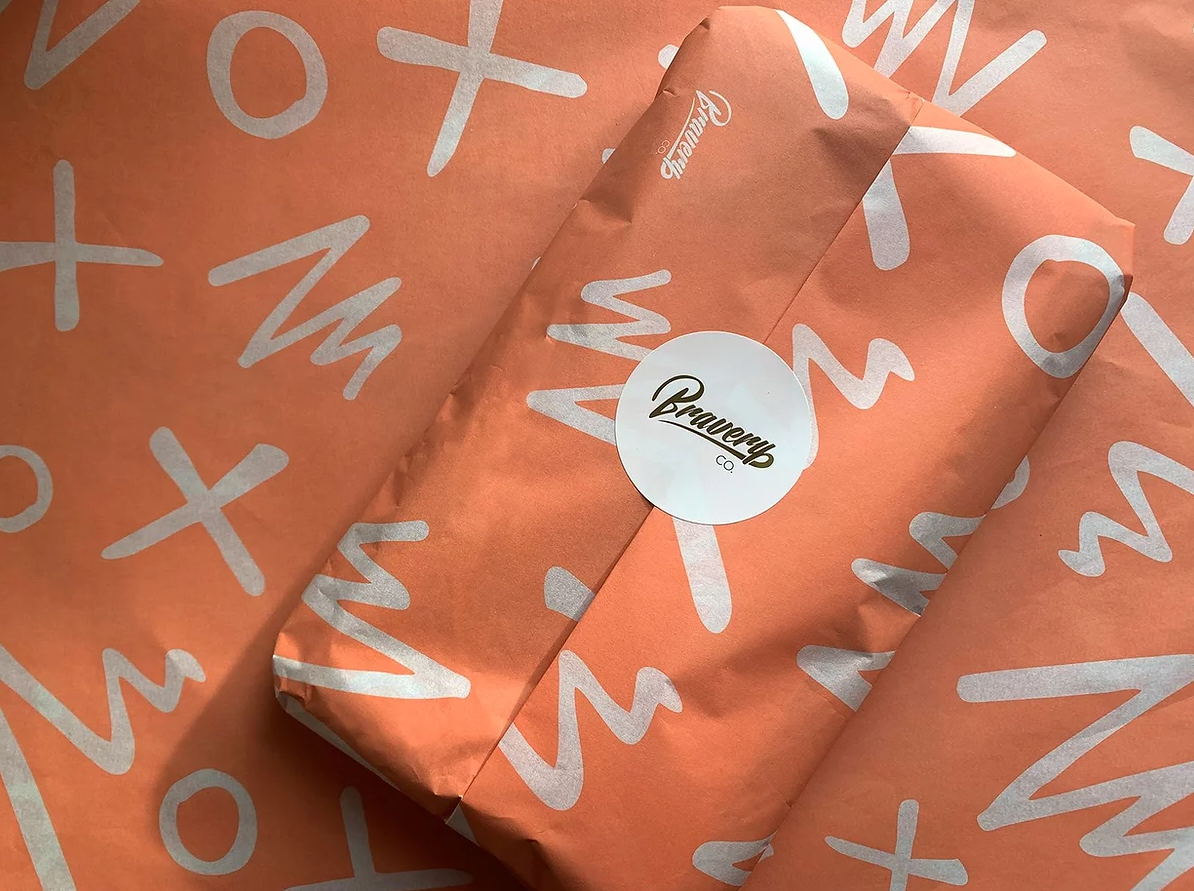 How we package stuff
We've gone to great lengths to ensure receiving a Bravery parcel a super special experience. 
If you order a Bravery Co. item from the our website, you'll receive your item wrapped with love and care using the the below.
We wrap our scarves in Noissue tissue paper which is sustainable paper. It's acid free and uses inks that don't harm the environment. We were even featured on their blog! Check it out here!
We use compostable sticky tape made from made from 90% renewable resources. 
Each order is posted in a compostable postage satchel that will breakdown with your food scraps. 
Caring for your designer scarf
Your designer scarf is made out of a very soft silk modal blend. It is quite delicate and therefore needs you to be delicate when caring of it. 
If your scarf has been stained or is quite grubby, we would suggest dry cleaning however if it's just in need of an overall clean, you can give it a very gentle hand wash. Use a mild delicate-friendly liquid soap using cool water. Silk doesn't love being submerged in water for too long so 5 minutes is enough. Then dry flat.
In-between wears, I would suggest hanging the scarf or drape it over a chair so it can air out. This also helps let the wrinkles unravel. You can always give it an iron on low heat every now and again to completely smooth it all out .
It's the club that no one wants to be part of, but if you do get an invite, you'll soon discover you're surrounded by a bunch of warm, welcoming and wonderful warriors.
Our big and beautiful online community is the heart and soul of Bravery. If you've recently been diagnosed, supporting someone that has or just curious about cancer land - follow us on instagram and say hi.